LEED Certification and Sustainability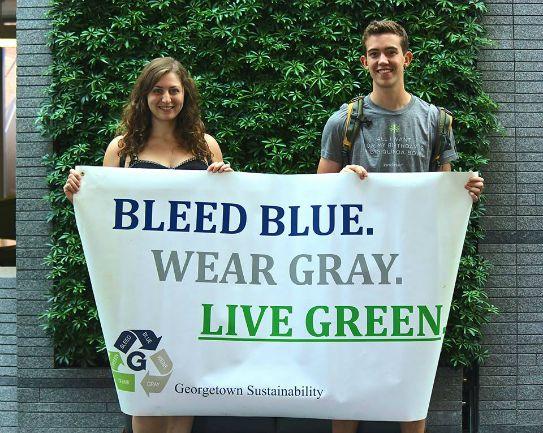 Georgetown University is committed to addressing critical sustainability challenges in our local and global communities. Through approaches that reflect our Jesuit heritage, our core mission of creating knowledge and our commitment to justice and common good, we seek to foster a deeper understanding and spur action on the issues.
The University is pursuing broad-based, practical approaches to sustainability, including an ambitious commitment to cut our carbon footprint in half by 2020. On campus, we are implementing real-world sustainability solutions, using the campus as a living laboratory and developing a long-term sustainability strategy to guide our work.  Get more information about sustainability efforts (new window) at Georgetown University.
Featured within the Healey Family Student Center are two recycling stations, a Ter-recycle station in the Hilltoss food service location, a living green wall in the Great Room, photocells that monitor the amount of light used within the space, and a solar screen that assists in creating a natural shade within the space.
The Healey Family Student Center is aspiring to reach LEED (Leadership in Energy & Environmental Design) Gold status through the U.S. Green Building Council.